Growing up in Indiana, the name of the game was oval track racing – but I've been a road racing fan since I was a kid. The Midwest seems to have a short track for every other county. The truth is, there are a few really great road racing circuits hidden amongst the woodiest of alcoves. Road America, Gingerman, Autobahn, NCM, and now a new name on the list (and the 2nd biggest of them all) – Ozarks International Raceway.
/ Track Info
FIA Rating: None yet, but understood to be built to Grade 2 standards

Full Length: 3.97 mi
Outer Track: 2.5 mi
Inner Track: 1.4 mi
Corners: 19
Elevation Change: 150 ft
Garage Stalls: 60 cars
/ The Perfect Location
Just over a 3-hour drive from St. Louis (or 2 hrs 20 min from Kansas City) Ozarks International Raceway sits nestled in the northwest corner of the Ozarks mountain range, beset on 3 sides by the namesake Lake of the Ozarks, almost perfectly in-between its meandering legs.
It's fitting that this circuit finds its home in the middle of these curving stretches of waterway – if you've ever seen photos of Lake of the Ozarks (or seen the popular Netflix show that shares the setting), it looks more like a series of wide, interconnected rivers than a lake.
Already dubbed the "Nürburgring of the US", because of its length (3.970 miles compared to Road America's 4.048 miles) and elevation changes, the track features two layouts: A longer, 2.5 mile outer course, and a shorter 1.4 mile inner course.  Together, they comprise the full 3.97 mile length utilized by the Cayman GT4 cars of Porsche Sprint Challenge North America this past April.
/ The Owner Is A Pro Racing Driver & Team Owner
OIR is built to FIA Grade 2 standards, and not without reason – the facility is owned by racing driver JR Pesek, who has formerly competed in the Trans Am TA4 Class (now known as GT) and World Challenge SprintX GTS Pro/Am championship.  Pesek is a native of Harrisonville, Missouri and also owns PF Racing, with his son James Pesek.  James has taken over the racing now, having started his career by attending the Ford Performance Racing School.  From there, he moved on to wheel-to-wheel racing in NASA, and the pair built out PF Racing into a premier Ford Performance customer team.  PF now runs the IMSA Michelin Pilot Challenge full-time in GT4 class, most recently scoring a double podium at Daytona, with Harrison Burton & Zane Smith placing P1 for the team and Ben Rhodes & Hailie Deegan placing P3.
The track was designed (in partnership with Canadian automotive engineering company Multimatic) with drivers in mind – featuring elevation changes, covered garages for endurance events, ample runoff area, and track width to allow for competitive passing room.  From their website, "…the primary architect of this layout was the lay of the land, paired with Jr Pesek's vision and Multimatic's knowledge."
/ Pro & Semi-Pro Racing Series Attracted to the Track
Adding to the track's allure is the constant talks over the past few years of the circuit becoming a stop on multiple pro and semi-pro racing series' calendars.  To date, OIR has hosted events with USF Juniors & Porsche Sprint Challenge North America, and had confirmed races with SRO's GT World Challenge America championship and IMSA's Lamborghini Super Trofeo championship which were cancelled due to infrastructure and supply chain issues.  Their website lists a five-year plan aiming to host events from "Indycar, NASCAR, IMSA, and SRO."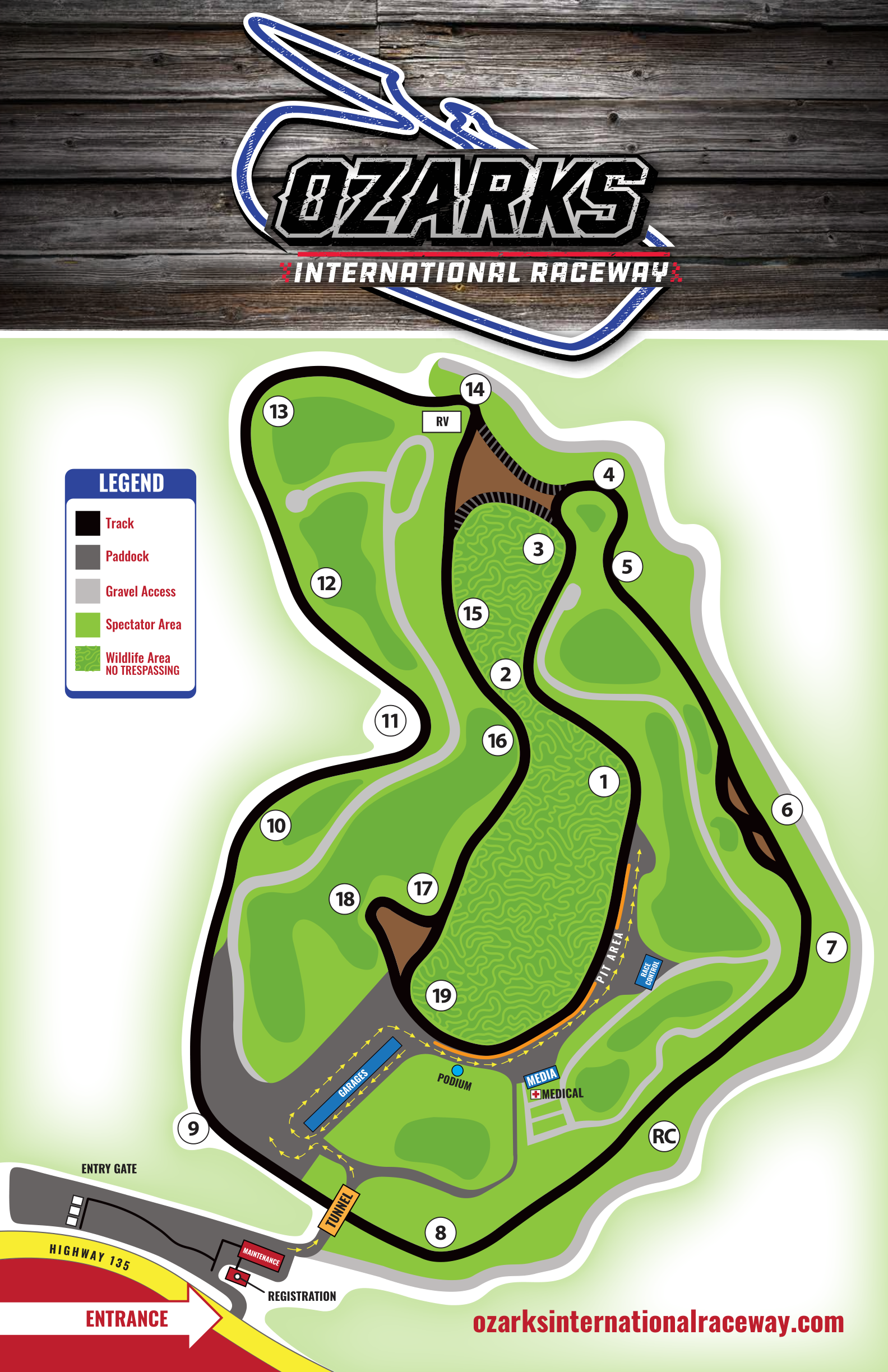 / Aims to Expand the Track & Amenities
Situated on 654 acres, the track has plenty of plans to expand.  Currently being considered are a rally and off-road course, condos, team houses and cabins, a clubhouse, a drift pad and a racing school.
The aim of the racing school will be to act as a "stepping stone to PF Racing, a premier Endurance Team competing in IMSA and occasionally SRO, and create a ladder system from motorsports entry into top-level GT4 and GT3 endurance racing in North America".